Unlimited cable Internet is included in all apartments.
Rental prices are fully inclusive of gas, heating, electricity, water and house costs.
One rental payment covers all.
Lonyay 20, Corvinus apartment
9th District
Sleeps 6, Bedrooms:3 and Bathrooms:1
Size of apartment: 143 m2
The perfect student apartment, 3 to 4 bedrooms in a spacious high quality classic apartment. In a great area, beside the Corvinus / Semmelweiss and Technical Universities of Budapest.
Description of Lonyay 20, Corvinus apartment
Centrally located second floor apartment beside the Corvinus University the New Whale Riverside Development and just a stones throw from the Danube.
Surrounding area
This property is beside the Central Market, Vaci and Raday streets, the main walking streets in Budapest for shopping and nightlife. Its central location means you are always close to a variety of shops and eateries and bars, you will be really spoiled for choice when deciding which direction to head in. It is right across the river from the famous and beautiful Gellert Spa. The apartment
This fully restored 142m2 apartment is in a classic turn of the century building in the old merchants quarter of this increasingly popular and artisan inner 9th district at 20 Lonyay utca.
The beautiful wood floors, light decor and spacious quality feeling make this a real delight as a base to live in Budapest.
The accommodation comprises three double bedrooms. There is one large bathroom with shower bath and wc, and a separate WC with wash basin. The apartment has a fully equipped American kitchen with a table and chairs. The large bright living room, with comfy sofas, a dining table for six people and a TV, also has a sofa bed making this a versatile property offering sleeping accommodation from two to eight people.
Ironing facilities, microwave, hairdryer and ample bed linen and towels are all provided.
Public transport
For those travelling by car, there are plenty of parking spaces in front of the building. Remember that parking tickets must be purchased (up to two hours at a time) on weekdays between 8am and 8pm. There is also free parking in Budapest at the weekend. You can park right above the petrol station at Kalvin ter, only a two minute walk away.
Its central position means that the apartment can be reached by tram, underground, and bus from Kalvin ter. The night bus services also run nearby, so even if you stay out until the morning, it will never be a problem getting back to your home-from-home by public transport.
Location
Accessibility of Apartment
This apartment is on the 2nd Floor of the building, and the building does not have a lift (elevator).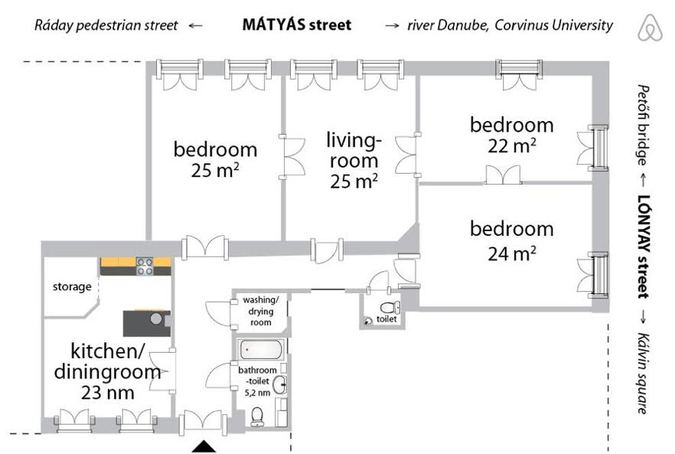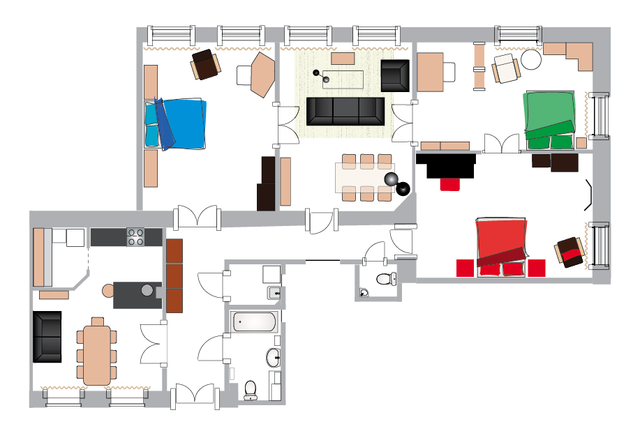 Availability of property
September 2020
View availability for this property in all coming months
Start your enquiry now
Long Term Booking
Prices per month based on length of contract
Examples: rent for 3 months and pay €1400/month, rent for 7 months and pay €1200/month or for 12+ months pay €1200/month
1: €1800
2: €1600
3: €1400
4: €1200

5: €1200
6: €1200
7: €1200
8: €1200

9: €1200
10: €1200
11: €1200
12: €1200
Make an enquiry about long term rental of this apartment
We value your privacy and will never sell, give or trade your email or personal information to any third party.

If you prefer to phone
to enquire about this apartment,
call Gordon on
+36 70 557 6880
Some other suggestions for you
Budapest Property Rentals Driver Service
We provide a driver service from the airport through our partner Peter at the same price as the airport minicab : 25 euro