Unlimited cable Internet is included in all apartments.
Rental prices are fully inclusive of gas, heating, electricity, water and house costs.
One rental payment covers all.
Lonyay 17 3 bedroom
9th District
Sleeps 4, Bedrooms:2 and Bathrooms:1
Size of apartment: 100 m2
Superbly located first floor 100sqm apartment, 3 bedroom, in a nice historical building between the Danube and Raday street close to Kalvin square.
Description of Lonyay 17 3 bedroom
Superbly located first floor flat, in a nice historical building, between the Danube and the Raday street, close to Kalvin square.
Close to all the major city center attractions, the Danube river, large food market, Balna city center, Vaci "shopping street" street, the National Museum, Applied Arts Museum, Corvinus mall/cinemas, thermal baths Gellert and Rudas. This apartment is also close to many shops and restaurants, bakery restaurants, Cafe Intenzo, Pink Cadilac, MAMO ICE CREAM, LA BOTTE PIZZERIA, BMC JAZZ RESTAURANT and clubs.
Easy access to all public transport. The number 2 tram along the Danube river to the Parliament and to the Margit Island, "the best public transport ride in town". The #4-6 trams and #47 tram. Not far from the flat there is the Metro Station Kalvin square with the intersection of the 3 and 4 metro lines. One metro stop from the #2 Red line.
Flat of 100 sqm with 3 big rooms:
- largest bedroom with double bed, wardrobe, sofa and a dinning area with table and chairs
- 2nd big bedroom with double size bed, wardrobe, sofa and desk
- bedroom with a single bed (with possible extra single bed) wardrobe, sofa and desk
- nice kitchen fully equipped with gas stove, fridge, electric kettle, toaster, coffee maker, pots and pans and cooking utensils
- bathroom with bathtub, washing machine.
- the flat was painted and refurnish end of 2013
- wireless Internet available
- we provide bathroom towels and bed sheets
Location

For SatNav, Map apps and iphone maps:
tap in
Lonyay 17
Accessibility of Apartment
First floor apartment with lift (elevator)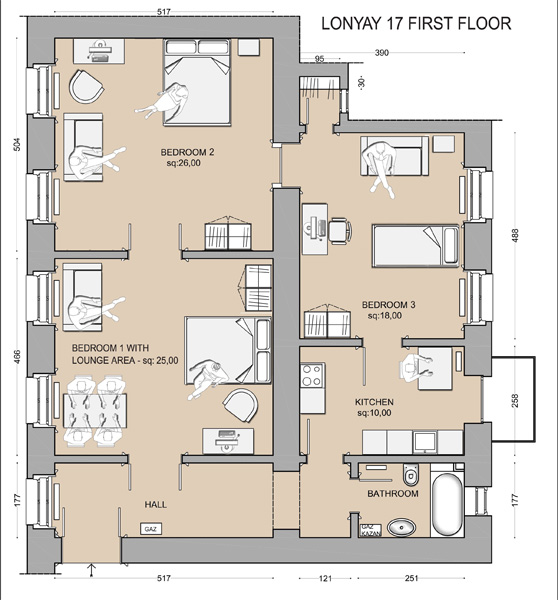 Availability of property
February 2021
View availability for this property in all coming months
Start your enquiry now
Long Term Booking
Prices per month based on length of contract
Examples: rent for 3 months and pay €1200/month, rent for 7 months and pay €1000/month or for 12+ months pay €900/month
1: €1500
2: €1200
3: €1200
4: €1200

5: €1100
6: €1000
7: €1000
8: €900

9: €900
10: €900
11: €900
12: €900
Make an enquiry about long term rental of this apartment
We value your privacy and will never sell, give or trade your email or personal information to any third party.

If you prefer to phone
to enquire about this apartment,
call Gordon on
+36 70 557 6880
Some other suggestions for you
Budapest Property Rentals Driver Service
We provide a driver service from the airport through our partner Peter at the same price as the airport minicab : 25 euro