Unlimited cable Internet is included in all apartments.
Rental prices are fully inclusive of gas, heating, electricity, water and house costs.
One rental payment covers all.
Danube Riverside Balcony View
1st District
Sleeps 6, Bedrooms:3 and Bathrooms:2
Size of apartment: 125 m2
A large classic 3 bedroom period apartment with superb veiws up and down river taking in 6 bridges over the Danube
Description of Danube Riverside Balcony View
A large (125 sqm), classic, 3 bedroom period apartment with panoramic views up and down river taking in 6 bridges over the Danube.
This fully renovated and furnished apartment is wonderfully situated on the banks of the Danube in the most prestigious and sought-after District 1 on the Buda side of the river.
The building, though unassuming from the outside, is a classic (Polgari) residence dating back to the turn of the last century and has had many famous residents over the years ... including a second world war UXB...no longer there we must add!
There is a large entrance hall to the building which leads up a few steps into a courtyard from where one may take either another grand and gentle staircase or a lift (elevator) to the third floor landing and apartment entrance. The apartment has recently been repainted. In addition the streets and buildings in the locality have had a lot of renovations in the last 2 years restoring the area to former glory.
Accommodation (see floor plan opposite) includes 3 large, wooden floored, high ceiling (4 metres) rooms all facing the river with superb views, the central room being used as the living room and the 2 either side as bedrooms. The current arrangement has the main bedroom with a balcony.
The modern kitchen-diner, with double doors leading to the living room, has a table large enough to seat 8 for dinner and is fully equipped with high quality, stainless steel appliances and a granite worktop. Towards the rear of the apartment are 2 bathrooms and a third bedroom (both the smaller bedrooms have tasteful galleries and can take a queen sized bed either at floor level or gallery level).
It is worth noting the apartment has been used extensively by the owner and his family and friends for the last few years. As such, it has some lovely paintings and artefacts (that can be used by tenants or stored by the owner if required) offering a warm feeling and could very quickly become a home from home for a visiting professional (and family) for a few months or a few years.
Location and amenities
The flat is within a 5 minute walk of two historic thermal baths - the Racz and the Rudas - and but one tram stop from a third: the famous Gellert. A short walk away is the newly opened Vackert Bazar and a further walk up the gentle green slopes of Taban Hill takes you up to the new luxurious Oxygen Wellness Centre and a tennis club with first class clay courts.
Another pleasant stroll leads to the architectural gems and spectacular vistas atop Castle Hill. The stretch of riverfront which includes the building is listed as a UNESCO World Heritage site.
We are well-served by public transport. Stops for at least 3 bus routes and 2 tram routes are within a 3 minute walk from the front door. Downtown Pest can be quickly and easily reached: it is just one bus stop away over the Elizabeth bridge or a short walk over the Chain bridge. The metro stop at Batthany ter is only a couple of minutes away by tram or bus, and the new metro line 4 has now opened the nearest station is at Gellert ter a short walk along the river or one tram stop.
Location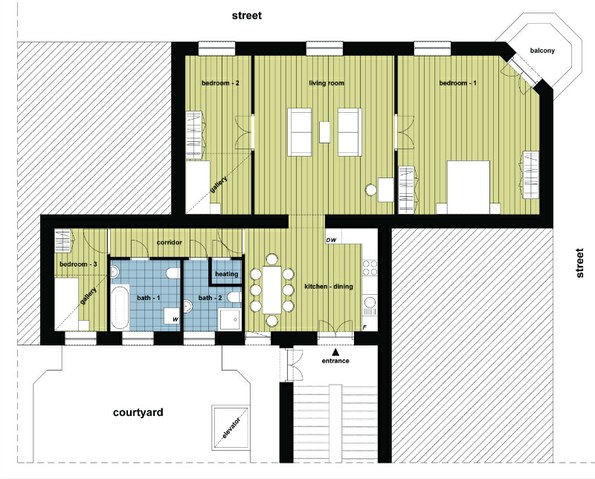 Availability of property
August 2020
View availability for this property in all coming months
Start your enquiry now
Long Term Booking
Prices per month based on length of contract
Examples: rent for 3 months and pay €2500/month, rent for 7 months and pay €2000/month or for 12+ months pay €1700/month
1: €3000
2: €2500
3: €2500
4: €2500

5: €2500
6: €2000
7: €2000
8: €2000

9: €1800
10: €1800
11: €1800
12: €1700
Make an enquiry about long term rental of this apartment
We value your privacy and will never sell, give or trade your email or personal information to any third party.

If you prefer to phone
to enquire about this apartment,
call Gordon on
+36 70 557 6880
Some other suggestions for you
Budapest Property Rentals Driver Service
We provide a driver service from the airport through our partner Peter at the same price as the airport minicab : 25 euro