Unlimited cable Internet is included in all apartments.
Rental prices are fully inclusive of gas, heating, electricity, water and house costs.
One rental payment covers all.
Rozsa utca One Bedroom
7th District
Sleeps 2, Bedrooms:1 and Bathrooms:1
Size of apartment: 50 m2
A good value for money 1 bedroom flat in the heart of the city
Description of Rozsa utca One Bedroom
An ideal good value 1 bedroom flat in the heart of the city, quiet and peaceful facing to a beautiful classic courtyard with a large amount of plants, flowers and greenery.
Close to major transport links and the shops, restaurants of Budapest's King Street. A short walk to the city park and Andrassy Utca as well as the Hunyadi square indoor and outdoor markets.
A classic apartment with high ceilings and wooden floors so in summary a lovely living space.
Location

For SatNav, Map apps and iphone maps:
tap in
Rozsa utca 36
Accessibility of Apartment
2nd floor no lift, easy access with gentle stairs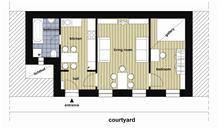 Availability of property
December 2019
View availability for this property in all coming months
Start your enquiry now
Long Term Booking
Prices per month based on length of contract
Examples: rent for 3 months and pay €800/month, rent for 7 months and pay €650/month or for 12+ months pay €600/month
1: €1000
2: €900
3: €800
4: €750

5: €700
6: €650
7: €650
8: €650

9: €650
10: €650
11: €650
12: €600
Make an enquiry about long term rental of this apartment
We value your privacy and will never sell, give or trade your email or personal information to any third party.

If you prefer to phone
to enquire about this apartment,
call Gordon on
+36 70 557 6880
Budapest Property Rentals Driver Service
We provide a driver service from the airport through our partner Peter at the same price as the airport minicab : 25 euro