Unlimited cable Internet is included in all apartments.
Rental prices are fully inclusive of gas, heating, electricity, water and house costs.
One rental payment covers all.
Raday Kinizsi Park Luxury
9th District
Sleeps 4, Bedrooms:2 and Bathrooms:1
Size of apartment: 100 m2
A Classic, Beautiful, 100sqm Spacious 2 bed apartment, high specification, light and luxurious
Description of Raday Kinizsi Park Luxury
This stunning apartment is situated in a classic early 20th century building just off the famous Raday Utca. In a quiet location accessed through a beautiful garden courtyard it offers spacious accommodation for up to four people. It is the ideal base from which to explore Budapest having everything you need to make your stay comfortable.
Surrounding area
The Apartment is light and airy due to its high aspect. The semi-pedestrianised Raday Utca situated between the Danube and the Grand Boulevard (Nagykorut) is not simply a tourist destination, it is one of the most cosmopolitan streets of Budapest with a diverse and thriving community with all the usual facilities; supermarkets, butchers, bakers, banks, a gym, churches, five minutes walk from the Market Hall and the superb cafes, restaurants and bars that spill onto the pavement from Early Spring to Late Autumn.
It is a great place to stay while visiting Budapest, situated less than five minutes walk from the Duna (Danube) river and the Szabadsag Bridge which leads to the Gellert Spa, Gellert Hill and Statue - a fantastic vantage point of the city which can be accessed by bus if you don't feel up to the climb!
The National Museum, the Central Synagogue, Vaci Utca shopping district and Christmas market (in December) are all within easy walking distance.
The Apartment
The apartment was fully renovated in 2009, retaining its original classic turn of the century features and offering a charming mix of old and new. The owner took particular pains to use the best local/designer furniture as well as high quality fixtures, fittings, kitchen and bathroom 'stuff' making it a home from home rather than a 'commercial let'.
The fifth floor apartment with lift has a spacious entrance hall/kitchen area. A beautiful living/dining/study room as well as two large bedrooms one with a king size bed and the other with twin singles that can be put together. The Bedrooms share one large bathroom with a walk in, open shower. Please take time to look at the photos and the floorplan.
Extra guests could also be put in the living room if need be as it has a seperate, discreet entrance to the other rooms.
The kitchen also has a table for 4 people and is fully equipped with electric hob and oven, large fridge freezer, coffee maker, microwave, electric kettle, electric toaster, pots and pans and cooking utensils. The large living room has a dining/study table for 4 people and a classic leather sofa. There is ample living space with cable TV and a radio/CD player. A washing machine, iron and ironing board are all provided. The apartment is fully serviced with fresh towels, laundry and linens.
Public transport
There is good access to public transport (Tram, Bus and Metro). Walk a couple of minutes from Raday Utca to the Danube and you can take the number 2 Tram which takes you on the most picturesque Tram route in the city along the banks of the Danube, you will see the magnificent Castle district on the hill overlooking Pest and the stunning Parliament building. From the Grand Boulevard (Nagykorut - the Ferenc Korut or Jozsef Korut section - see map below) take the number 4 Tram up to the Octogon which connects with the world heritage site Andrassy Utca with the Opera House, Terror Museum, Hero Square and the Szechenyi baths, City Park, Fair and Circus at the top. The main West end shopping centre is a short walk or a couple of Tram stops further on from the Octogon. Liszt Ferenc Ter another great spot for alfresco cafés and restaurants is just around the corner from the Octogon. The Metro system can be accessed from Kalvin Ter at the top of Raday Utca a five minute walk away.
Car users can park in the parking bays on the street outside the apartment or for longer stays there are 2 underground car parks within 100 metres which are available to the general public. Simply drive in and pay at the desk in the foyer when you leave.
Location
Accessibility of Apartment
This apartment is on the 5th Floor of the building, and the building does have a lift (elevator).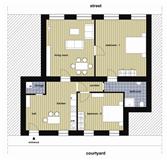 Availability of property
December 2019
View availability for this property in all coming months
Start your enquiry now
Long Term Booking
Prices per month based on length of contract
Examples: rent for 3 months and pay €1200/month, rent for 7 months and pay €1000/month or for 12+ months pay €1000/month
1: €1500
2: €1400
3: €1200
4: €1200

5: €1100
6: €1000
7: €1000
8: €1000

9: €1000
10: €1000
11: €1000
12: €1000
Make an enquiry about long term rental of this apartment
We value your privacy and will never sell, give or trade your email or personal information to any third party.

If you prefer to phone
to enquire about this apartment,
call Gordon on
+36 70 557 6880
Budapest Property Rentals Driver Service
We provide a driver service from the airport through our partner Peter at the same price as the airport minicab : 25 euro