Unlimited cable Internet is included in all apartments.
Rental prices are fully inclusive of gas, heating, electricity, water and house costs.
One rental payment covers all.
Hajos 9 Opera Courtyard
6th District
Sleeps 2, Bedrooms:1 and Bathrooms:1
Size of apartment: 30 m2
Compact Budapest accommodation situated next to the Hungarian Opera House in the very heart of Budapest (Pest).
Description of Hajos 9 Opera Courtyard
This compact and beautiful accommodation in Budapest is situated next to the Hungarian Opera House, in the very heart of the city. The apartment is located on the 3rd floor of this newly renovated building which was originally built around the turn of the 20th century when classicism and eclecticism were the mainstream styles in architecture.
The apartment is situated in the middle of the thriving theatre district right in the centre of Budapest, where Deák tér, the Basilica, Parliament, and the famous Chain Bridge, designed by an Englishman in the middle of the 19th century, are all just a few minutes away.
The apartment has all the facilities one needs for a short term city break, including wireless (wifi) enabled internet. It has a fully fitted luxury kitchen with dining facilities, a luxury bathroom with shower, washing facilities, TV with 66 cable channels, a DVD player, Hi-Fi system and ample spare bedding, and the lovely interior design that just simply helps you to relax. As the windows face the courtyard, it is an excellent place to get rid of all your tensions and to enjoy a calm and quiet time while here. However, if you would prefer to experience the city and it's night life, you are also at the best location. The apartment is approximately 1-2 minutes walking distance from the yellow underground line's Opera station on Andrássy út. Andrássy út with its cafés is an excellent place for a morning coffee.
You can try Balettcipo for a nice dinner and Bar Sandokan for a well-mixed cocktail on Hajós utca which are approximately 300 metres from the house. If you want a cultural night out, you can try the Opera next door, or Moulin Rouge on Nagymezo utca or the Music Academy on Liszt Ferenc tér again only a few minutes walk away from the apartment. Liszt Ferenc tér with its bars and restaurants is also a thriving place for all ages, giving the city a little bit of Mediterranean atmosphere.
Having the yellow metro line so close to the apartment, it takes you only 15 minutes to get to the famous Széchenyi Baths in the city park for a nice relaxing day of hot springs and steam rooms and even Thai massage. The Budapest Zoo and Theme Park are also only a few minutes away at the City Park which can give you an ideal day out. Listen to concerts at the Zoo in summer, a great place for classical and jazz music!
If you want to take a boat trip, walk down to the Danube which is also a few minutes walking distance, try the casino by the river, or just take a walk on Váci utca off Deák tér.
Parking facilities can be found by the Basilica (5 minute walking distance) underground the main square. Otherwise there is a parking fee between 8am and 6pm Monday-Friday.
Location

For SatNav, Map apps and iphone maps:
tap in
Hajos 9 Budapest
Accessibility of Apartment
3rd floor with no lift (elevator)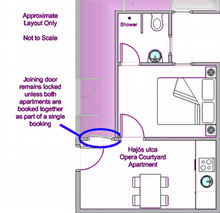 Availability of property
March 2020
View availability for this property in all coming months
Start your short term booking now
Start your enquiry now
Long Term Booking
Prices per month based on length of contract
Examples: rent for 3 months and pay €700/month, rent for 7 months and pay €500/month or for 12+ months pay €500/month
1: €1000
2: €800
3: €700
4: €600

5: €600
6: €600
7: €500
8: €500

9: €500
10: €500
11: €500
12: €500
Make an enquiry about long term rental of this apartment
We value your privacy and will never sell, give or trade your email or personal information to any third party.

If you prefer to phone
to enquire about this apartment,
call Gordon on
+36 70 557 6880
Some other suggestions for you
Gellert and Danube View 2 Bedroom Classic








Budapest Property Rentals Driver Service
We provide a driver service from the airport through our partner Peter at the same price as the airport minicab : 25 euro