Unlimited cable Internet is included in all apartments.
Rental prices are fully inclusive of gas, heating, electricity, water and house costs.
One rental payment covers all.
Eotvos utca 2 bedroom
6th District
Sleeps 4, Bedrooms:2 and Bathrooms:1
Size of apartment: 115 m2
115sqm two bed, one bathroom and separate WC with 50sqm rooftop terrace and a separate east facing balcony
Description of Eotvos utca 2 bedroom
A top floor apartment with an a large roof terrace and 360 degree panoramic views, finished to a very high level of comfort compromising a large living area, 2 bedrooms 2 bathrooms, modern kitchen fully furnished and kitted out. Perfect for a 1 or 2 professionals sharing.
Location

For SatNav, Map apps and iphone maps:
tap in
Eotvos Utca 44
Accessibility of Apartment
5th floor with lift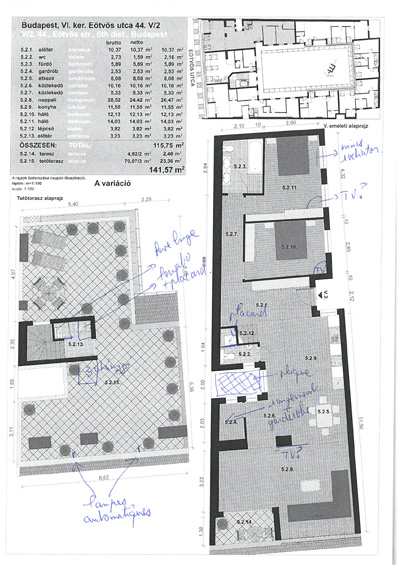 Availability of property
December 2021
View availability for this property in all coming months
Start your enquiry now
Some other suggestions for you