Unlimited cable Internet is included in all apartments.
Rental prices are fully inclusive of gas, heating, electricity, water and house costs.
One rental payment covers all.
Damjanich Utca City Park 3 Bedroom Balcony with View
7th District
Sleeps 6, Bedrooms:3 and Bathrooms:1
Size of apartment: 110 m2
City Centre located large, beautiful 3 bedroom apartment with A/C, 3rd floor with an elevator (lift)
Description of Damjanich Utca City Park 3 Bedroom Balcony with View
A very quiet and secluded large 3 bed apartment.Located on the top floor at 36 Damjanich Utca in the 7th district close to the City Park. The apartment is at the back of the building and looks back over the gardens of the villas on the prestigous Ligeti Fasor Utca to the Buda Hills
There is a private balcony with room for a table and chairs, there is also A/C fitted for the hotter summer months. The flat compromises 2 or 3 bedrooms depending on how it is used
The kitchen / dining area is located on entering the apartment, with a separate WC and a large bathroom with WC and Bath / Shower, the large hallway can be used for dining / social space and there are 4 other rooms. Currently set up as 2 bed, one large living room and one storage, but these can be reconfigured easily as 3 bedrooms
Damjanich Utca is one of three broad, classic tree lined avenues leading from the City Park to the city center. It has great bus connections to the city center 5 minutes on the 70 or 78 buses to the trams 4/6 on the Korut. It also has a large quality Spar supermarket as well numerous smaller mom and pop stores, florist, Italian Deli, cafes and restaurants
The area is very much family orientated with the fantastic facilities of the city park on your doorstep, Galleries, Museums, Budapest Zoo, Sports facilities and Children's play areas within its 100 hectares of green space. It is also walking distance to at least 15 embassies for international diplomats with many good schools also close.
For international students at the Vet University or McDaniel campus the flat is also ideally situated.
Location
Accessibility of Apartment
the flat is third floor and has a lift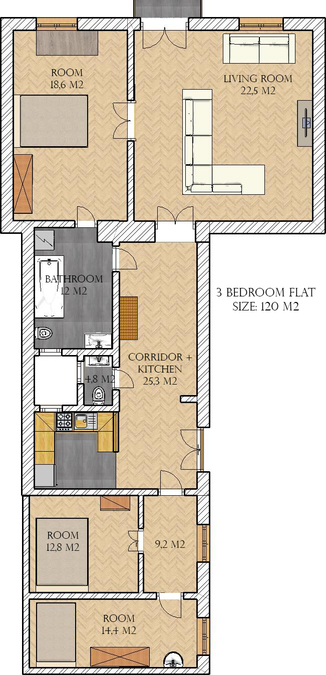 Availability of property
March 2020
View availability for this property in all coming months
Start your enquiry now
Long Term Booking
Prices per month based on length of contract
Examples: rent for 3 months and pay €1400/month, rent for 7 months and pay €1300/month or for 12+ months pay €1200/month
1: €1600
2: €1500
3: €1400
4: €1400

5: €1400
6: €1300
7: €1300
8: €1300

9: €1300
10: €1300
11: €1300
12: €1200
Make an enquiry about long term rental of this apartment
We value your privacy and will never sell, give or trade your email or personal information to any third party.

If you prefer to phone
to enquire about this apartment,
call Gordon on
+36 70 557 6880
Some other suggestions for you
Gellert and Danube View 2 Bedroom Classic








Budapest Property Rentals Driver Service
We provide a driver service from the airport through our partner Peter at the same price as the airport minicab : 25 euro