Unlimited cable Internet is included in all apartments.
Rental prices are fully inclusive of gas, heating, electricity, water and house costs.
One rental payment covers all.
City Park view, Family 4 bed apartment
7th District
Sleeps 5, Bedrooms:4 and Bathrooms:2
Size of apartment: 120 m2
A classic 120 sqm apartment with 4 bedrooms and 2 bathrooms with beautiful views across the city park, 4th floor with lift, perfect for use as a flat for a Business or Diplomat family
Description of City Park view, Family 4 bed apartment
A rare opportunity for a family to rent a totally equipped flat set up for use for a family with 2 or 3 children, the flat is high and light located on the 4th floor with great views across the city park. it also has 2 small French balconies.
The flat is currently set up as a 4 bedrooms, 2 bathrooms, walk in large kitchen diner and separate living / TV kids play area area but this could be converted to a 3 bed flat giving more living space if needed by simply removing one partition wall that currently creates a childs third bedroom.
The flat is currently being used by a family with 3 differing age children, and has a 'teenage room' with gallery, and 2 rooms for smaller children ... there is a bath as well as a shower.
The building is turn of 20th century classic with a green courtyard, the building has 2 lifts and one of these has NO steps to it so ideal for a pram.
As well as the city park attractions, Zoo, playgrounds, ice skating, cafes, kids play areas, child cycle training area, dog walking zones the flat is very well served by public transport.
The price is all inclusive of all utilities, wifi and condo fees, 2 months deposit is required with contract signing
Location

For SatNav, Map apps and iphone maps:
tap in
Dozsa Gyorgy Ut 68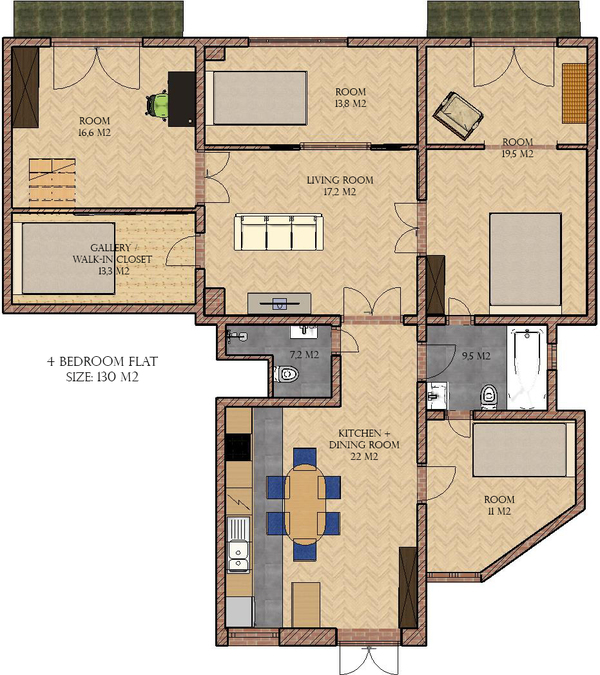 Availability of property
February 2020
View availability for this property in all coming months
Start your enquiry now
Long Term Booking
Prices per month based on length of contract
Examples: rent for 3 months and pay €2000/month, rent for 7 months and pay €1800/month or for 12+ months pay €1600/month
1: €2000
2: €200
3: €2000
4: €2000

5: €1800
6: €1800
7: €1800
8: €1800

9: €1600
10: €1600
11: €1600
12: €1600
Make an enquiry about long term rental of this apartment
We value your privacy and will never sell, give or trade your email or personal information to any third party.

If you prefer to phone
to enquire about this apartment,
call Gordon on
+36 70 557 6880
Budapest Property Rentals Driver Service
We provide a driver service from the airport through our partner Peter at the same price as the airport minicab : 25 euro