Unlimited cable Internet is included in all apartments.
Rental prices are fully inclusive of gas, heating, electricity, water and house costs.
One rental payment covers all.
Bazilika 1 Bedroom Apartment
5th District
Sleeps 2, Bedrooms:1 and Bathrooms:1
Size of apartment: 62 m2
Close to the Bazilika,Chain-bridge and CEU
Description of Bazilika 1 Bedroom Apartment
We offer for rent a 64m2, fully renovated apartment in the touristic center of Budapest. The apartment is close to the Bazilika, to the Chain-bridge and to CEU. It is on the 4th floor of a 5 floor historic building. The windows look towards east and face the inside yard of the house, so the apartment is full of light and it is surprisingly silent, considering its central location.
The apartment is fully renovated and tastefully furnished. The kitchen is well equipped, including dishwasher.
Dozens of restaurants as soon as one exits the house. Dynamic and constantly developing, historic neighbourhood. Excellent public transport opportunities from Erzsebet-ter (2 min walk) or from Deák-tér (5 min walk).
Opposite on the street is the Downtown Community Center, that offers unique services that create a community center for the citizens of the 5th district. The Downtown Community Center's regular programs and services are free of charge for a wide range of target audience, like couples expecting a baby, parents with kids, young adults and elder people, and also highly educated jobseekers.
The apartment is available from 11th of September 2020.

For SatNav, Map apps and iphone maps:
tap in
Bazilika Budapest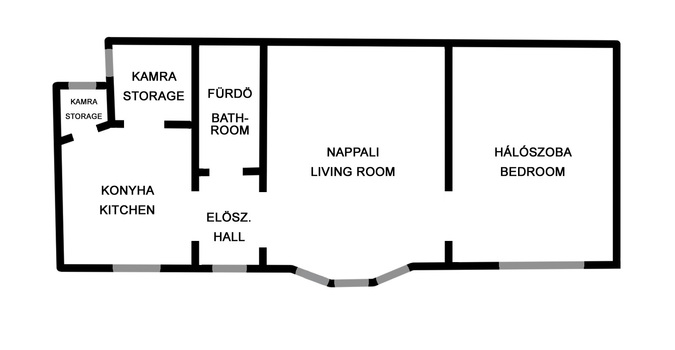 Availability of property
December 2022
View availability for this property in all coming months
Start your enquiry now
Some other suggestions for you