Unlimited cable Internet is included in all apartments.
Rental prices are fully inclusive of gas, heating, electricity, water and house costs.
One rental payment covers all.
Krudy Gyula Palace View
8th District
Sleeps , Bedrooms:4 and Bathrooms:2
Size of apartment: 111 m2
Located in the heart of the 8th district beside the National Museum and all city centre attractions. 2nd floor, no elevator
Description of Krudy Gyula Palace View
The 120sqm apartment has three or four bedrooms, depending on if the 4th room is used for living or bedroom space, 2 bathrooms and a large kitchen and hallway which can act as the communal space if the 4 bed option is used.
Located in the heart of Budapest,in the now renovated and fashionable Palace District quarter of the city on Krudy Gyula stret, close to the National Museum, Raday utca and a comfortable walk to all major city center attractions
Close to the Korut for transport and a whole range of new bars / cafes and restaurants that are both on the Korut and the nearby squares. Check out the New York Coffee House just beside Blaha ujza ter (only 2 tramstops away. Trams at the end of Krudy utca). So good that when opened the owner threw the key in the Danube declaring it should never be closed! A major place for all Hungarian novelists, poets and artists in 19-20th century Hungary who would write their works or wait for inspiration there.
Check out the Chinese market (5 stops by bus 9 from Baross utca) for souvenirs. If you want a late dinner pay a visit to Stex (end of Krudy u. turn right, on the corner of Baross u.) where you can enjoy a meal until 3am, play pool or have a quiet drink. They also do very nice breakfasts from 7am.
Great views over the square, a thriving, young bohemian area you will not be disappointed.
For families, there are 3 enclosed, dog-free playgrounds in the vicinity, which are places to relax even for those without children, thanks to the pretty gardens and fountains. Playgrounds close at sunset.
For those travelling by car, bare in mind that parking tickets must be purchased (up to 2 hours at a time) on weekdays between 8am and 6pm. Parking is free in Budapest on the weekends. There is a parking house situated above the petrol station at Kalvin ter, only a 2 minute walking distance away.
The apartments can be reached by tram, underground, and bus. The nightbus services run nearby as well, so even if you stay out till the morning, it will never be a problem getting back by public transport.
Location

For SatNav, Map apps and iphone maps:
tap in
Krudy 20 Budapest
Accessibility of Apartment
This apartment is on the 2nd Floor of the building, and the building does not have a lift (elevator).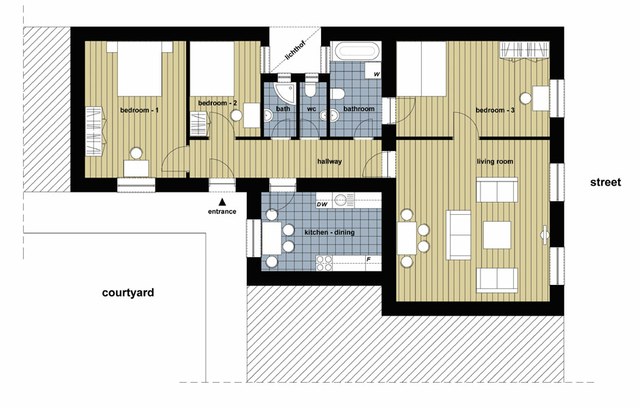 Availability of property
March 2019
View availability for this property in all coming months
Budapest Property Rentals Driver Service
We provide a driver service from the airport through our partner Peter at the same price as the airport minicab : 25 euro